Custom Virbolux Reverb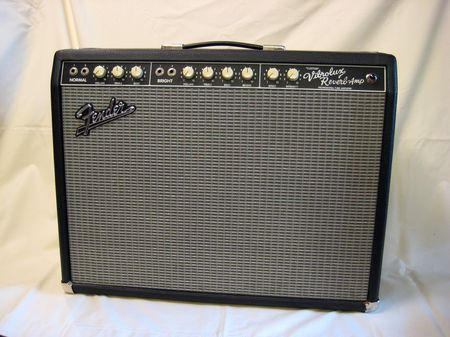 Coming to us thanks to the SRV phenomenon, this Custom Vibrolux is in fact a mix up of newish designs and of several models from various eras. The preamps are of the Fender "Blonde" type, the reverb is common to both channels and its mixing circuit modifies the gain of both channels and the effects level, the "Vibrato" is also from the "Blond" period and the output stage has no negative feedback. Apart from its controls topology and speaker complement, it doesn't have much to do with Black or Silverface Vibroluxes anymore. In fact, it has a lot more gain (and more hiss), a more controlable reverb (some might say "smaller") and a pretty sweet tremolo.
The owner of this amp was unfortunately looking for the 60's tone of the Vibro's so he asked me to modify the amp to get closer to it without resorting to rebuilding the amp. One of the main issues of this model is the amount of hiss coming from the preamp: it is due to the increased gain and the somewhat inadequate quality of its plate resistors.
Nevertheless, this combo is pretty nice with great clean to slightly gritty tones that work a treat for its owner's surf band. He uses it with a Fender 6G15 to get that unmistakable over the top wash of reverb.